Programm 2021
As soon as the 11th edition of the Caval'Air Jazz Festival was over, we worked on the programming of the 12th.
To seek, select, develop a program to make this festival a reference such is our ultimate goal.
After analysing the questionnaires it turned out that a very large majority of our audience wanted new-orleans jazz and also gypsy jazz.
You will be fulfilled beyond all your expectations.
So we offer you in opening :
A year late, we will celebrate the 100th anniversary of the birth of the brilliant all-rounder, Boris Vian.
This 12th edition of the Caval'Air Jazz Festival will therefore begin with a well-deserved tribute.
If Boris Vian was the « Pygmalion » of the beautiful years of Saint-Germain-des-Prés,
2020 will unfortunately have seen Juliette Gréco, his Muse, leave us.
We therefore offer you opening :
Wednesday, September 8, at 5 p.m. Esplanade Sainte-Estelle, the
Clara Brajtman Trio

with a « staged exploration » of Boris Vian's musical work.
Boris Vian's humour, modernity and sense of swing are the perfect way to talk about jazz
and inaugurate this 12th edition of the Caval'Air Jazz Festival 2021.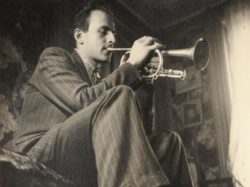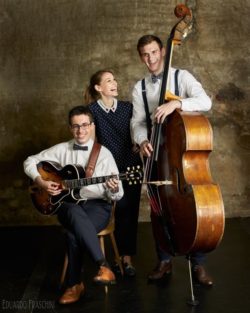 Clara Brajtman, actress and singer, has always been fascinated by the work of Boris Vian, and it is only natural that she proposed to her favorite accompanist, the guitarist Vladimir Médail, to mount together a singing tour around the repertoire of the famous « pataphysicist »
It seems to them quite quickly, that the universe of Vian lends itself to pushing the narrative tools even further.
Then emerges the idea of a real portrait in the form of a musical spectacle, with a clean but relevant staging, which allows the help of a few props to support the interpretation, to create characters, moods, threads stretched between the pieces, and to emphasize the colors so varied and sometimes unexpected.
To bring ever more nuance and thickness, they call on the double bassist Etienne Renard, a long-time accomplice, to accompany them.
Thursday, September 9 at 5 p.m. Esplanade Sainte Estelle come and discover

Timber Men Stompers.
The meeting between these 5 musicians was naturally made by their common passion for old jazz.
It is a group of French Jazz Swing and Old Style New Orleans, which revisits the known and unknown songs of the 1920s to 1950s of singers such as Freddie Taylor, Leo Watson, Steve Washington, Red Allen, Clarence Williams, Louis Armstrong, Nat King Cole.
Rémy BUSQUET on solo guitar and voice in harmony with Arne WERNINK on trumpet and voice supported by the double bass of Marc-Olivier PENSUET, the unmislent raucous voice of Arno GAUCHIA accompanying himon ing. rhythm guitar, and Pierre BAYSE on clarinet, will make you relive the Swing of the 30s/40/50s of New Orleans.
Nicolle Rochelle and Julien Brunetaud

to open


Thursday, September 9 at 9 p.m. Henry Big Space


The first of four paid nights.

They come back to us with irresistible freshness, passionate dialogues, unstoppable efficiency, swing and fun.

Always firmly rooted in Blues and Jazz, « Baby Blues » delivers a repertoire of original compositions and also high standards from Aretha Franklin to Duke Ellington through Dolly Parton or Clarence Brown, Dina Washington…

You will find Julie Saury on drums, Jean Baptiste Gaudray on guitar and Bruno Rousselet on the double bass
On Friday, September 10 at 5 p.m. Esplanade Sainte Estelle, you are invited to a tribute to Dexter Gordon legendary tenor saxophonist of American jazz.
The Greek saxophonist
Vasilis Xenopoulos

will give it back to him.
| | | | |
| --- | --- | --- | --- |
| | Dexter Gordon | | |
He is one of the most accomplished Greek jazz musicians of his generation. Vasilis Xénopoulos' charismatic performances reveal his truly fabulous style and energy, his passion interact with his audience. With his great talent, his love and his respect. He cherishes the challenges of the instrument and pushes it beyond.
He will be accompanied by Ross Stanley on piano, Dario Di Lecce on bass and Steve Brown on drums.
Friday, September 10 at 9 p.m. Henry Gros Space,


The immense
Liz McComb

will make this 12th edition
a great moment in the history of the Caval'Air Jazz Festival.

Liz McComb will take us through all the states of the human condition: upsetting and sometimes painful, exalted but serene, fiery but sensual, often suave and always bountiful… Liz McComb is above all moving and generous, through her voice, her piano playing and her absolute physical commitment. You never come out of his concerts unscathed !
On Saturday, September 11 at 5 p.m. Esplanade Sainte Estelle, you have an appointment with

Nicola Sabato Trio

and her Tribute to Oscar Peterson

Oscar Peterson is for many one of the greatest pianists in the history of jazz but also of the history of the piano.

Possessing, like the greatest classical pianists, a technique close to perfection, Oscar Peterson is also an absolutely astounding swing man and rarely equalled. With a career spanning more than 50 years, the pianist has left us wonderful albums made up of standards but also beautiful compositions like « Hymn to Freedom », « Cake Walk » or « Noreen's Nocturne ».

It is to this legend of jazz music that Nicola Sabato, Florent Gac and Germain Cornet pay tribute. These three leading musicians from the national and international jazz scene know the master's music very well.
Ninine Garcia, Leila Duclos

and their guests will hold the keys to the evening of the


Saturday, September 11 at 9pm Henry Gros Space.
| | | | |
| --- | --- | --- | --- |
| | Leila Duclos et Ninine Garcia | | Ninine Garcia et Thomas Dutronc |
At Ninine Garcia, the notes go straight to the heart. Far from the exercises of gratuitous virtuosity and sensational effects, it offers us music like there is none. Music without blush, without artifice. His sense of melody, his feeling and his openness to all styles of music give his guitar a special color.
Leila Duclos, here's what should be called a « cultural exception »: able to play gypsy guitar, sing a sway and swing when you're a modern girl. It's rare !
Ninine Garcia and Leila Duclos  will be accompanied by Eva Slongo on violin, Rocky Garcia on guitar and Laurent Delaveau on bass and a few other nice and good surprises…
Ms. Kaz Hawkins

will close this 12th edition of the Caval'Air Jazz Festival in apotheosis on


Sunday, September 12 at 7 p.m. Henry Big Space
| | | | |
| --- | --- | --- | --- |
| | Etta James | | |
This Irish artist will offer us a vibrant tribute to Etta James. Her influence in Kaz Hawkins' career and life was such that the Irish singer even officially changed her surname to that of James Etta Hawkins, alias Etta James
Kaz Hawkins, with his extraordinary and profound voice, will share with his pianist Sam York, and his band, a performance of rare emotional intensity.
Let yourself be seduced by his solar personality, his charisma and his accuracy of interpretation.
We hope you will keep a pleasant memory of the 12th edition for a long time
See you in 2022 for the 13th edition of the Caval'Air Jazz Festival.
No video link, also good either-it will never be worth a total immersion with the musicians.
So come many vibrate live with the artists we offer this year

.
Contact us : www.cavalairjazz.fr or cavalairejazz(@)orange.fr or by calling 07.66.49.29.37
Thank you very much.
Musically.
The Festival Team