From Wednesday, september 4 until Sunday, september 8, 2019
At the end of the main season, Caval'air Jazz festival presents excellent musicians in a splendorous environment.

   Wednesday, September 4, 2019 : Esplanade Sainte-Estelle : at 5.00 pm.  Free entrance.
The Yellbows

It 's both cheerful, a little crazy, funky and downright rock'n'roll…
Stephan Notari  singer, drummer, « Washboardiste », guitarist but also author and composer has created an original acoustic group to give his songs the color he seeks, subtle mix of cultures states-U.S. between jazz New Orleans, Blues Creole and folk of the Bayou.
They will then accompany the Pass holders for a stroll through the beautiful Bay of Cavalair.
Thursday, September 5, 2019 : Esplanade Sainte-Estelle : at 5.00 pm.  Free entrance.
Les Swing Bones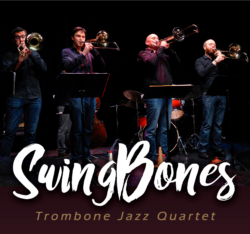 Imagine a front-line composed of four trombones, supported by a rhythmic trio.
Swing Bones or the desire to perpetuate a style based on one of the essential values of jazz says « classic »,
The swing, notion proudly claimed and that they promote with panache.
Thursday,september 5, 2019 :  Hall Henri Gros : at 9 pm. Entrance fee
Champian Fulton & Scott Hamilton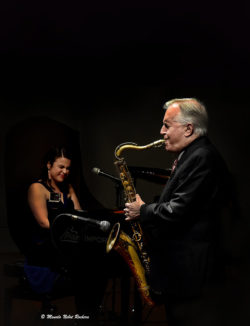 The young New York pianist and singer Champian Fulton and the legendary American saxophonist Scott Hamilton had the great idea of recording an album together in 2017.
It is two generations who meet with the same vision of jazz as an art of the stage, making each concert a warm, energetic and full of empathy.
Champian Fulton  received the award « Female Voice of the Year » at the Hot House Jazz Magazine award Ceremony 2017.
 Scott Hamilton is one of the legendary tenor saxophonists and follows the line of masters like Coleman Hawkins, Ben Webster, Lester Young…
Friday, september 6, 2019 :  Esplanade Sainte-Estelle : at 5.00 pm. Free entrance.
Alexis Tcholakian
Alexis Tcholakian is part of this series of young French pianists that have progressed over the last few years in a way that
Incredible. He is also a remarkable composer» Martial Solal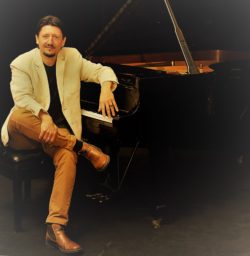 Tribute to Michel Petrucciani
Alexis Tcholakian on piano, the brothers Le Van, Christophe on bass and Philippe on drums, will pay a tribute to
Michel Petrucciani whose tragic demise we will celebrate on the 20th anniversary.
His music, his work, are flood, sensual, romantic, energetic, full of swing and groove;
They are the expression of an appetite for life and an extraordinary personality and can only rejoice the musicians who play it and the audience that receives it in sharing.
Friday, september 6, 2019 :  Hall Henri Gros : at 9 pm. Entrance fee.
Barbara Hendricks et son blues band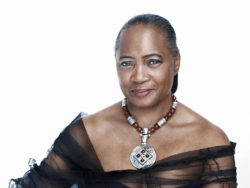 Photo Credit: Mattias Edwall
The Association Cavalaire Jazz invited Mrs. Barbara Hendricks
It is an honor to receive this immense artist at Cavalaire sur Mer.
In the classical repertoire, Barbara Hendricks added jazz and the Blues tonight.
« The Road of Freedom », an original program with an irresistible swing, a multitude of finds,
Charm and surprises by its originality.
In the Blues, the voice of Barbara Hendricks is like a great wine; It matures, enriches itself with
Sumptuous colors, roundness and warmth.
She puts her recognizable voice among all in the service of this music:
A tasty voice with various stamps and a richness of colors that makes this repertoire fascinating and captivating.
It will be accompanied by: Mathias Algotsson piano & organ B3, Max Schultz guitar, Ulf Englund, guitar and lighting creation, Olivier Casaÿs producer.
Saturday, september 7, 2019 :  Esplanade Sainte-Estelle:  at 5.00 pm. Free entrance
Valérie Marienval Quintet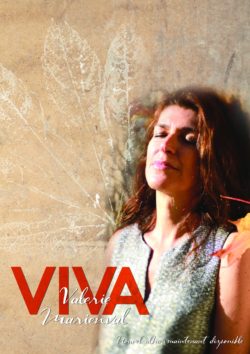 Valérie Marienval, composer, author, singer. Her island, her musical idyll, her inspiration, her direction, her horizon, she found them in Brazil.
It is these affinities with the culture, the country, the musics that gave him the desire to record his first album VIVA, whose master words are: harmony, Melody, Groove, rhythm, poetry, Message.
And it is this love of the language, of the Brazilian culture that Valerie and her Quintet propose to share with you the time of an afternoon.
Saturday, september 7, 2019 :  Hall Henri Gros : at 9 pm. Entrance fee.
Why go abroad to pick up a pianist while the whole world of Jazz envy us and we jealous ?
Pierre Christophe Quartet : Tribute to Erroll Garner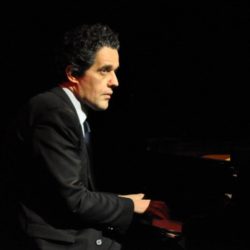 It is from Pierre Christophe whom I am talking about, which leads in parallel studies of piano jazz and classical studies at the Conservatoire de Marseille in the class of Guy Longnon, where he won a gold medal in 1991
Pierre Christophe is the winner of the International Jazz competition at Juan Revelations 2005 in the piano category  and of the Django-Reinhardt prize in 2007
and the price of the Hot Club de France in 2018.
« How does this devil of Pierre Christophe succeed in entering the musical spirit of Erroll Garner…?
I Ignores it, but it does. His musicality, his inventiveness are constantly on the breach… never Interest does not weaken. « 
Newsletter of the Hot Club of France, April 2017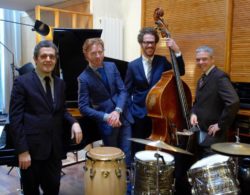 « Erroll Garner was one of the greatest improvisers of jazz and a piano magician. » These are the words of Pierre Christophe to qualify one of his musical heroes.
By revisiting his standards like « Misty » or his mythical Concert By the Sea, he pays homage to him tonight Henry Gros in the company of Raphael Dever on the double bass,
Stan Laferriere on drums and Laurent Bataille at the congas.
 A concert not to be missed from 9pm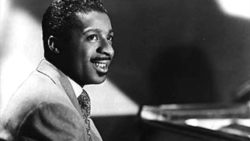 Erroll Garner is a self-taught pianist who claimed he had never learned to read scores.
He memorized everything he composed and played in his ear, as many of the artists of that period.
His ear, his technique and his dexterity allow him to make an international career. It is famous for its very personal swing, but the song having earned it the status of Jazz star is Misty, composed in 1954
and became a great standard taken up by hundreds of performers in the world.
Sunday, September 8,2019 :   Hall Henry Gros : at 5 pm : Entrance fee.
Opus Jam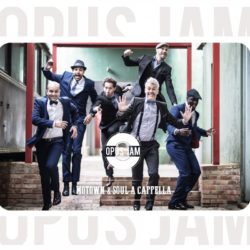 The association offers you a sextet to cappella, Opus Jam.
One of our most illustrious jazzman, Mr.Didier Lockwood recommended the band to many Jazz festivals by writing :
« The power and warmth of the voices as well as the musicality that I could hear through the very sharp arrangements and perfectly Performed on stage make Opus Jam in my eyes the best formation in cappella in France.
Very nice discovery! You'll probably hear about them '
So don't miss this chance to come and discover this vocal harmony.
Sunday, september 8, 2019 :  Hall Henri Gros : at 8 pm. Entrance fee.
Boogie-Woogie Youth
We propose to discover 3 young and talented Boogie-Woogie pianists to whom we have appealed to close in beauty this 10th edition of the Caval'Air Jazz Festival.
As Pierre Corneille so well wrote, « to the well-born souls, the value does not wait for the number of years. »
He wasn't mistaken!!!
Ladyva

You can discover Vanessa Gnaegi or Ladyva, a Swiss pianist who received the « best Boogie-Woogie pianist 2017 » award in London on September 13, 2017.
She will be joined by Luca Sestak, a young German prodigy of 23 years.
Luca Sestak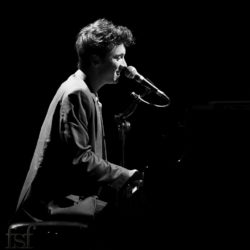 In 2011 he took part in the world's largest Boogie-Woogie festival in Laroquebrou, France.
Nirek Mokar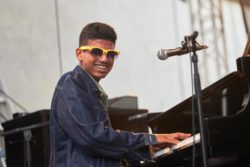 Nirek Mokar, a barely 17-year-old « Minot » will be accompanied by Simon Boyer on drums with a powerful and regular rhythm that animates the Boogie-Woogie
and Claude Braud, a master of tenor saxophone with sparkling swing and overflowing energy.
Both will have the role of swing the pianists, while rewarding us with beautiful solos of which they have the secret.
No video link, also good either-it will never be worth a total immersion with the musicians.
So come many vibrate live with the artists we offer this year.
Contact us : www.cavalairjazz.fr or cavalairejazz@orange.fr
Thank you very much.
Musically.
The Festival Team